It's Only A Daylily – Right?
user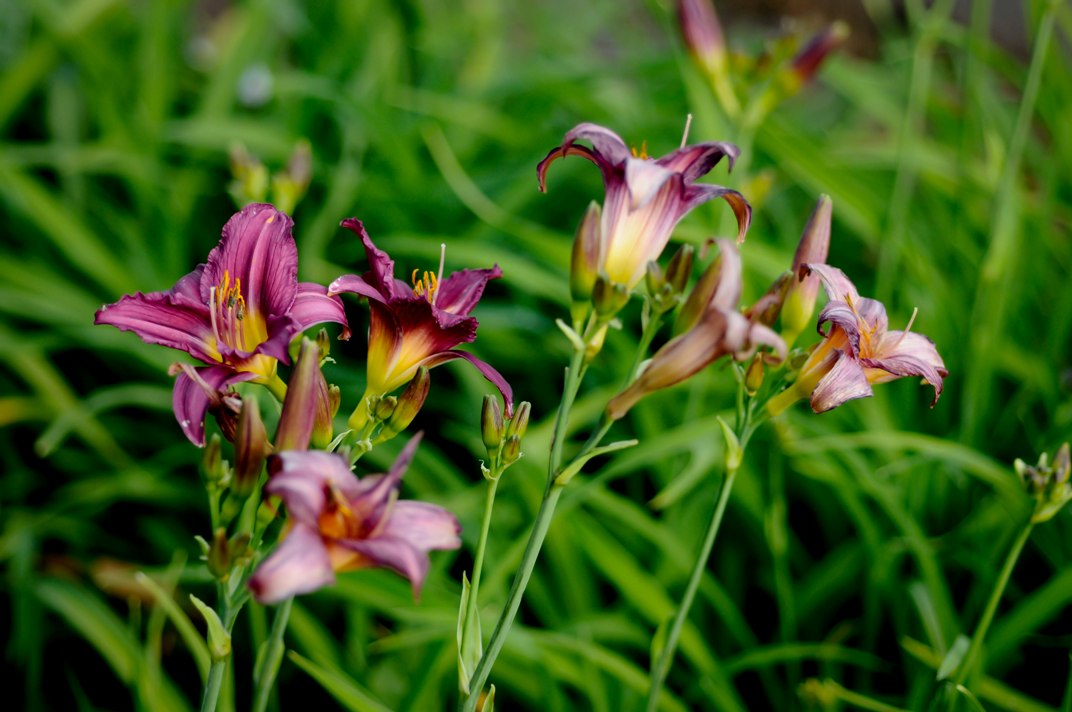 That's what I thought too – that is, until I started growing them for myself. My opinion was that they are either tall, in a non-descript shade of orange; or short and yellow. Some people have even given them derogatory names like 'ditch lilies', or even 'outhouse lilies'! There are also all those horror stories about daylilies taking over the entire yard – who wants those? However, to be true to an ideal, my husband Jeff and I bought our first daylily collection consisting of about 65 or so cultivars.
We transplanted them from one Central Alberta garden to another – they survived the move well and quickly started rooting in. I was worried about how they would winter because we have some pretty cold temps – down to minus 40 degrees Celsius. But we didn't lose a single one. I thought, If the 65 we have are this good, how many more are there that are equal, or even better? But they're only daylilies – right?
I started reading everything I could get my hands on and found out a lot of things I had not previously imagined. To start, there have been over 70,000 cultivars of Daylilies officially registered since 1893. With that being so, I knew there was a lot more to daylilies than meets the eye. They certainly weren't all orange or yellow – that's for sure! And the modern hybrids behave themselves admirably, by staying where they are put rather than visiting the neighboring flower bed 20 feet to the north.
I was really impressed at the huge range of colors, shapes, and sizes – only to be further impressed at the quantity and quality of growing and hybridizing information shared by those who have a passion for beauty and diversity.
With all this info, How do we chose which ones are the best for northern prairie gardens?
In making a thorough daylily appraisal, there are up to 140 aspects that can be taken into consideration. However we narrowed it down to five main qualities: a fast plant; pretty flowers with a long bloom time; hardiness; clean foliage; and pest resistance.
These characteristics became the criteria for our daylily standards in registered cultivars.
1. FAST – Gardeners want impact and something that establishes quickly. We include varieties that double their fans each year with some that triple – the modern hybrids multiplying from the crown of the plant rather than the quack grass like roots of their predecessors.
2. PRETTY FLOWERS WITH A LONG BLOOM TIME – The average daylily blooms for three weeks in our Central Alberta garden with some having a bloom time up to five weeks. Advancements in breeding have produced gorgeous flower forms exhibiting strong, vibrant color; good branching; and high bud counts. We showcase and produce high performance stock.
3. HARDINESS – 98% of our stock is hardy on its own – all the way to minus 40 degrees Celsius -with a few cultivars needing a little help from a friend in the form of leaf mulch in the fall.
4. CLEAN FOLIAGE – Gardeners want foliage that looks good all season. We eliminate varieties with significant mid-summer foliar deterioration.
5. PEST RESISTANCE – No Daylily is 100% pest free. However, in our northern climate, we have significantly lower pest problems than our southern neighbors.
You might ask – how is it possible to collect reliable data from such a small number of plants? As it happened, in the summer of 2013, we purchased a large Alberta collection from northeast of Edmonton consisting of approx 235 new cultivars, thereby boosting our total number of plants to over 5000. We no longer had ONLY daylilies.
They range in height from 1′- 6′; with flowers in the range from 1″- 10″ in diameter. And in a rainbow of amazing colors.
Our objective is to grow crème-de-la-crème plants for a value price that would WOW gardeners, at about $11 to $15 retail. It's not been easy – starting out with only a few fans of some of the most unique and distinctive cultivars. So we are increasing them on our own. We now feel that we have enough stock to sell a few of almost everything even though some cultivars are very limited.
To date, we've sold thousands of Daylilies from Gablehouse Farm and Gardens. There's good reason: they're proven! I can't name a better system.
Gablehouse Farm and Gardens has name recognition and received national coverage in the October, 2014 edition of Garden's West Magazine. The development of specific lines and collections are being set up to accommodate the growing demand for daylilies in a variety of garden settings and conditions.
Do your own comparison. You may come to the same conclusion I did: A daylily is not ONLY a Daylily – and hasn't been for a long time!